MRI Robot for Precision Deep Brain Stimulation Probe Placement
Deep brain stimulation (DBS) is an effective, FDA approved treatment of Parkinson's Disease and other movement disorders. Successful outcomes require accurate localization of the target intra-operatively, and precise guidance of the electrode to that target. Direct magnetic resonance (MR) image guidance during DBS insertion would allow interventional MRI to be used for planning, monitoring of tissue deformation, real-time visualization of insertion, and confirmation of placement.
The accuracy of standard stereotactic insertion is limited by registration errors and brain movement during surgery. Since the current standard of care entails planning probe placement with high-resolution MRI, it is a natural extension to perform the procedure directly in the MR scanner to ensure that the surgical plan is precisely implemented. With real-time acquisition of MR images during insertion, probe placement and insertion path can be confirmed intra-operatively. Currently, no technological solution exists to assist MRI-guided neurosurgical interventions in an accurate, simple, and economical manner.
Use of a robotic assistant will minimize the potential for human error associated with the current procedure and will better address the practical issues of operating in an MR bore. The robotic system may also serve as a validation tool for researchers whose work requires precise targeting of anatomical regions identified by MR imaging for treatment such as drug delivery or tissue biopsy.
The objective of our research is to make conventional diagnostic closed high-field (1.5T - 3T) MRI scanners available for guiding DBS electrode placement interventions for treatment of Parkinson's Disease and other neurological disorders including severe depression and Alzheimer's Disease. This will be accomplished through the use of a robotic image-guided therapy system that offers significant improvements in deep brain stimulation, including reductions in surgical time and morbidity, over existing treatment methods.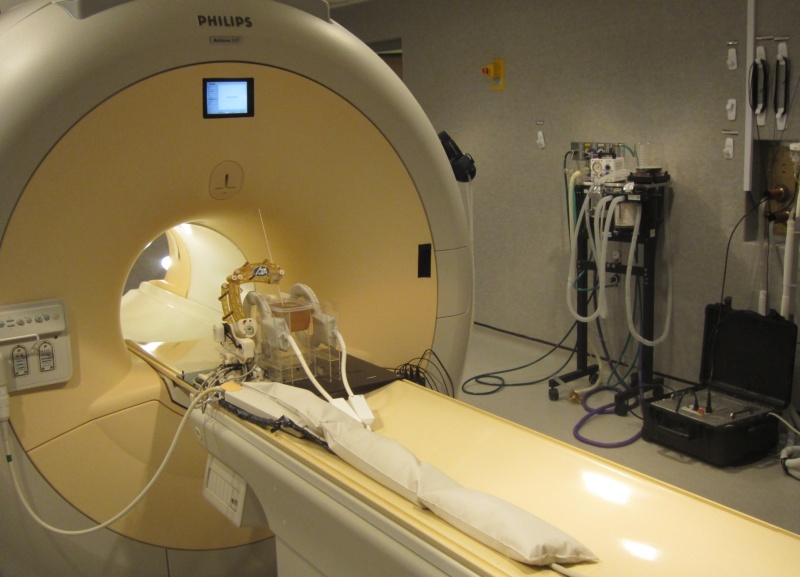 Related Publications
MacDonell J, Patel N, Fischer GS, Burdette EC, Qian J, Chumbalkar V, Ghoshal G, Heffter T, Williams E, Gounis M, King R, Thibodeau J, Bogdanov G, Brooks OW, Langan E, Hwang R, Pilitsis JG, Robotic Assisted MRI-Guided Interventional interstitial MR Guided Focused Ultrasound Ablation in a Swine Model, Neurosurgery, June 2018. Neurosurg, PubMed

MacDonell J, Patel N, Rubino S,Goshal G, Fischer GS, Burdette EC, Hwang R, Pilitsis JG, Magnetic Resonance-guided Interstitial High-intensity Focused Ultrasound for Brain Tumor Ablation, Journal of Neurosurgery (JNS) Neurosurgical Focus, Vol 44, No 2, pp E11, Feb 2018. JNS, PubMed

Ghoshal G, Gee L, Heffter T, Williams E, Bromfield C, Rund L, Ehrhardt JM, Diederich CJ, Fischer GS, Pilitsis JG, Burdette EC, A Minimally Invasive Catheter-based Ultrasound Technology for Therapeutic Interventions in Brain: Initial Preclinical Studies, Journal of Neurosurgery (JNS) Neurosurgical Focus, Vol 44, No 2, pp E13, Feb 2018. JNS, PubMed

Nycz CJ, Gondokaryono R, Carvalho P, Patel N, Wartenberg M, Pilitsis JG, Fischer GS, Mechanical Validation of an MRI Compatible Stereotactic Neurosurgery Robot in Preparation for Pre-Clinical Trials, IEEE/RSJ International Conference on Intelligent Robots and Systems - IROS 2017, Vancouver, BC, Canada, Sept 2017. IEEE

Li G, Su H, Cole GA, Shang W, Harrington K, Camilo A, Pilitsis JG, Fischer GS, Robotic System for MRI-Guided Stereotactic Neurosurgery, IEEE Transactions on Biomedical Engineering, Vol 64, No 4, pp 1088-1088, April 2015. IEEE, PDF

Pilitsis JG, Fischer GS, Burdette EC, Development of MRI-guided Robotic Hi-intensity Ultrasound Needle/Catheter for Ablation of Brain Metastases, Congress of Neurological Surgeons - CNS 2014, Boston, MA, USA, Oct. 2014.

Cole GA, Harrington K, Su H, Camilo A, Pilitsis JG, Fischer GS, Closed-Loop Actuated Surgical System Utilizing In-Situ Real-Time MRI Guidance, Springer Tracts in Advanced Robotics - Experimental Robotics, eds. Khatib O, Kumar V, Sukhatme G, Springer-Verlag, Vol 79, pp 785-798, 2014. Springer, PDF

Audette MA, Rashid T, Chakravarty MM, Guo JT, Gilles B, Fischer GS, Towards Digital Atlas- and MRA-guided, Intraoperative MRI-registered Robotic Deep Brain Therapy, 34th Annual International Conference of the IEEE Engineering in Medicine and Biology Society (EMBC), San Diego, USA, Aug. 2012. PDF

Pilitsis JG, Fischer GS, Cole GA, Stereotactic Neurosurgery with Real-time MRI-Guided Robot Assistance, American Society for Stereotactic and Functional Neurosurgery - ASSFN, June 2012.

Fischer GS, Cole GA, Su H, Approaches to Creating and Controlling Motion in MRI, In Proceedings of the 33rd Annual International Conference of the IEEE Engineering in Medicine and Biology Society (EMBC), Boston, USA, Aug. 2011. (Invited Paper) IEEE, PubMed, PDF

Su H, Iordachita I, Yan X, Cole GA, Fischer GS, Reconfigurable MRI-Guided Robotic Surgical Manipulator: Prostate Brachytherapy and Neurosurgery Applications, In Proceedings of the 33rd Annual International Conference of the IEEE Engineering in Medicine and Biology Society (EMBC), Boston, USA, Aug. 2011. PubMed, IEEE

Wang Y, Cole GA, Su H, Pilitis JG, Fischer GS, MRI Compatibility Evaluation of a Piezoelectric Actuator System for a Neural Interventional Robot, 31st Annual International Conference of the IEEE Engineering in Medicine and Biology Society - EMBC 2009, Minneapolis, Minnesota, September 2009. PDF, EMBS, PubMed, BibTex, EndNote