Clinically Focused MRI Robot Control Architecture
We have developed a clinically focused robot control architecture to support our MRI-compatible robotic systems. The work includes custom hardware, communication protocols, and user interfaces. Safety and reliability are incorporated while ensuring a clinically appropriate workflow. The system is configured for clinical trials with the MRI-guided Prostate Biopsy and Brachytherapy robot.
The Robot Control System and Software Architecture for the Prostate Biopsy and Brachytherapy Robot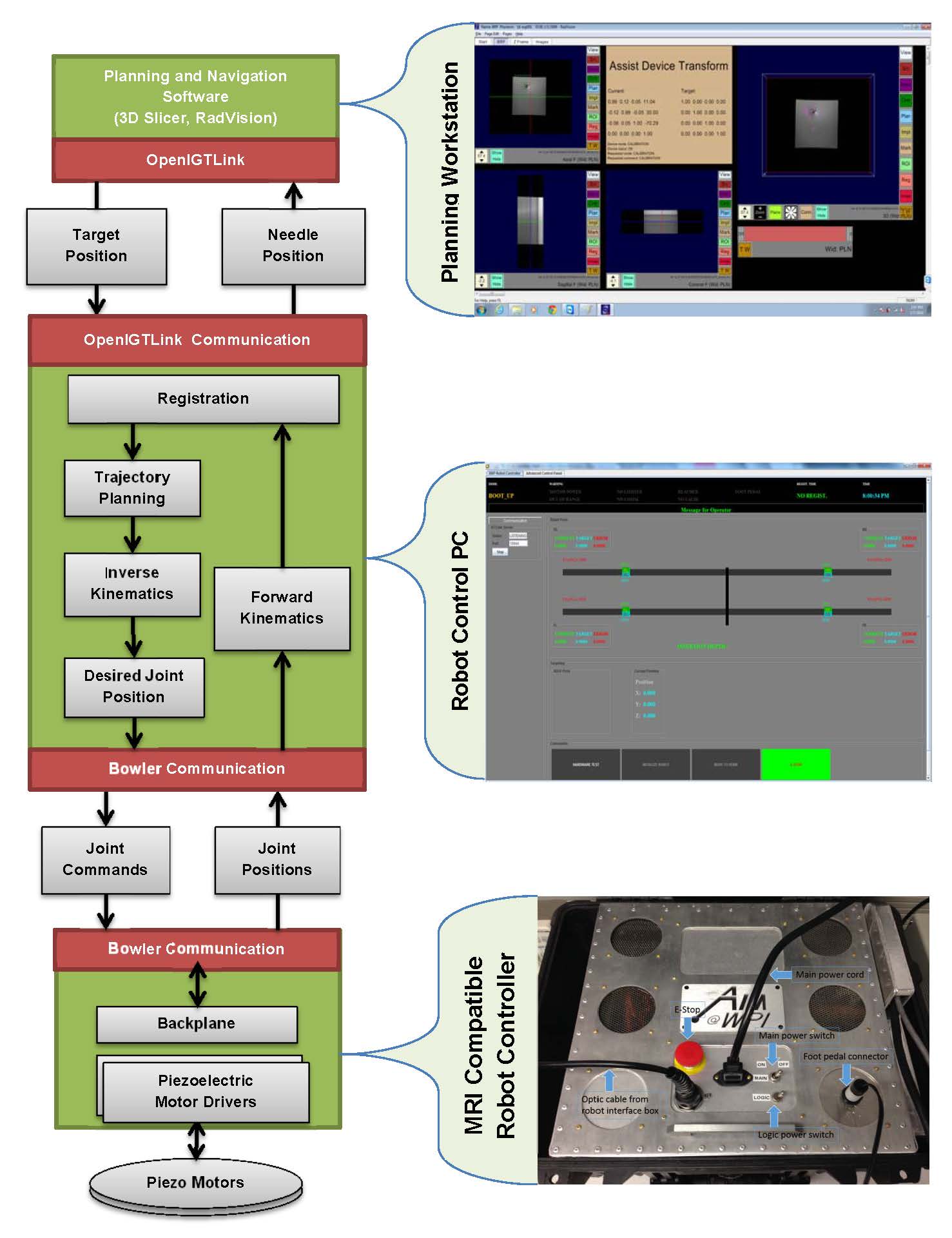 The above figure shows our hardware/software architecture for the Prostate biopsy and brachytherapy robot. As shown in the figure, tools like 3D Slicer and Radvision are used to do high level surgical planning by the surgeons. These tools provide very good visualization and volume registration features to update the surgical plan with intraoperative images acquired during the surgical procedure. Once surgeon confirms the target position for taking the biopsy in probable tumor regions within the prostate, target position along with the robot registration transform is sent to the robot control software using OpenIGTLink. Once the robot receives the target position, it does inverse position kinematics and trajectory planning to decide desired joint positions. Joint positions are sent to a low level controller running on a custom built, MRI compatible controller over our Bowler communication protocol. The real-time low level controller is responsible for controlling the desired joint position. As robot links move, updated joint positions are streamed back to robot control application and from there to high level surgical planning tools(e.g. 3D Slicer and RadVision).
Please also see the following related works:
Related Publications
Li G, Su H, Shang W, Tokuda J, Hata N, Tempany CM, Fischer GS, A Fully Actuated Robotic Assistant for MRI-Guided Prostate Biopsy and Brachytherapy, SPIE Medical Imaging (Image-Guided Procedures, Robotic Interventions, and Modeling Conference), Orlando, USA, Feb. 2013. PubMed, SPIE

Su H, Shang W, Harrington K, Camilo A, Cole GA, Tokuda J, Hata N, Tempany CM, Fischer GS, A Networked Modular Hardware and Software System for MRI-guided Robotic Prostate Interventions, SPIE Medical Imaging, San Diego, USA, Feb. 2012. SPIE, PDF

Tokuda J, Fischer GS, Papademetris X, Yaniv Z, Ibanez L, Cheng P, Liu H, Blevins J, Arata J, Golby A, Kapur T, Pieper S, Burdette E, Fichtinger G, Tempany C, Hata N, OpenIGTLink: An Open Network Protocol for Image-Guided Therapy Environment, The International Journal of Medical Robotics and Computer Assisted Surgery, Vol 5, No 4, pp 423-34, Dec. 2009.Wiley, PubMed, PDF