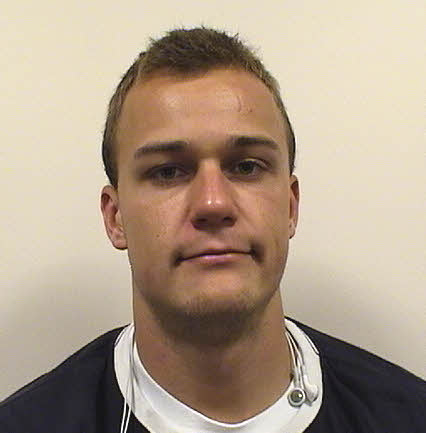 Marek Wartenberg
Doctoral Candidate
Robotics Engineering Program
Worcester Polytechnic Institute
Contact Information
Lab

85 Prescott Street
Room 230 (Beside RBE office)
Phone: 508-831-5191

Mailing Address

85 Prescott Street
2nd Floor, Robotics Engineering
Worcester, MA 01605

E-mail
Education
M.S., Automation and Control Engineering, Politecnico di Milano, Milan, Italy, 2013
M.S., Biomedical Engineering, University of Connecticut, Storrs, CT, 2012

Thesis Title:
Design, Fabrication and Function Validation of a Myoelectric-Activated Torque-Controlled Robotic Rehabilitation Device

B.S., Biomedical Engineering, University of Connecticut, Storrs, CT, 2010
Research Interests
Medical robotics
Control systems
Image-guided therapy
About Me
Marek was born and raised in Portland, Maine and enjoys returning home regularly to visit his family and friends. He attended The University of Connecticut where he received his B.S. in Biomedical Engineering then went on to complete dual-masters under an international exchange program. He earned an M.S. in Biomedical Engineering at The University of Connecticut and an M.S. in Automation and Control Engineering at Politecnico di Milano in Milan, Italy. Marek met Prof. Fischer while attending a robotics course at WPI and subsequently joined the AIM lab for his Ph.D. in Robotics Engineering.
His current research is in developing closed-loop control of needle trajectory for pelvic needle placement procedures such as prostate biopsy. Targeting is based on automatic adjustment of bevel-tipped steerable needles under interventional-MRI guidance alongside admittance-based cooperatively controlled insertion. This allows for incorporation of virtual fixtures in the robot workspace to avoid delicate biological structures, while leaving ultimate control of the procedure to the physician.
Publications
Refereed Conference Proceedings
---
Nycz CJ, Gondokaryono R, Carvalho P, Patel N, Wartenberg M, Pilitsis JG, Fischer GS, Mechanical Validation of an MRI Compatible Stereotactic Neurosurgery Robot in Preparation for Pre-Clinical Trials, IEEE/RSJ International Conference on Intelligent Robots and Systems - IROS 2017, Vancouver, BC, Canada, Sept 2017. IEEE

Wartenberg M, Schornak J, Carvalho PA, Patel NA, Iordachita I, Tempany CM, Hata N, Tokuda J, Fischer GS, Closed-loop Autonomous Needle Steering during Cooperatively Controlled Needle Insertions for MRI-guided Pelvic Interventions, Hamlyn Symposium, London, UK, July 2017.

Wartenberg M, Patel N, Li G, Fischer GS, Towards Synergistic Control of Hands-on Needle Insertion with Automated Needle Steering for MRI-Guided Prostate Interventions, IEEE EMBC 2016, Orlando, FL, USA, pp 5116-5119, Aug. 2016. IEEE

Conference Abstracts, Workshops and Non Peer-Reviewed Papers
---
Moreira P, Patel N, Wartenberg M, Li G, Heffter T, Burdette EC, Iordachita I, Fischer GS, Hata N, Tempany CM, Tokuda J, Transperineal MR-Guided Prostate Biopsy: The Contribution of Needle Deflection to the Targeting Error, International Symposium on Biomedical Imaging - ISBI'18, Washington, DC, April 2018.

Fischer GS, Wartenberg M, Patel NA, Tokuda J, Tempany CM, Hata N, Towards Cooperative Control of MRI-guided Pelvic Needle Placement Procedures, 9th NCIGT Image Guided Therapy Workshop, Bethesda, MD, Mar 2017.