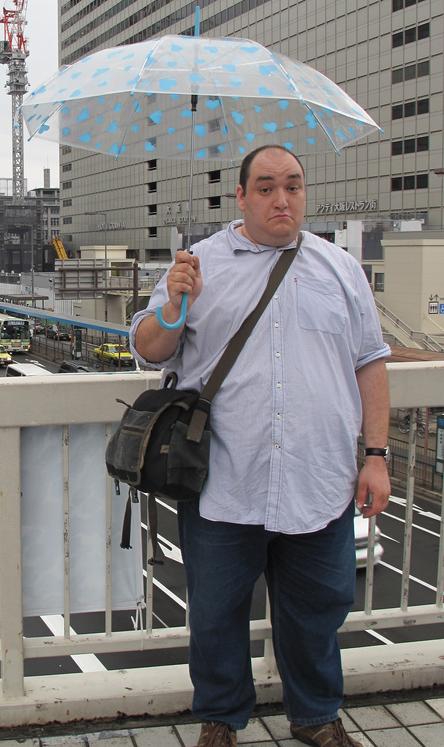 Gregory Cole
Doctoral Candidate
Department of Mechanical Engineering
Worcester Polytechnic Institute
Contact Information
Lab

Higgins Lab 045
Phone: 508-831-5191

Mailing Address

100 Institute Rad, HL 130
Worcester, MA 01609

E-mail
Education
B.E., Mechanical Engineering, Worcester Polytechnic Institute - Worcester, MA 2009
M.S., Mechanical Engineering, Worcester Polytechnic Institute - Worcester, MA 2009
Research Interests
MRI robot controller
MRI-armatures
MRI compatible robotic systems design
Current Projects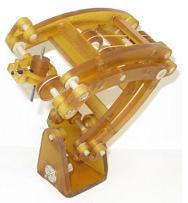 MRI Compatible Actively Driven Stereotactic Neural Intervention Unit:
Purpose: This device endeavors to allow a surgeon to utilize live MR imaging to guide the position of an actively driven stereotactic needle insertion guide. We hope this will streamline the procedure for stereotactic neural intervention as well as increasing electrode placement accuracy by circumventing many forms of registration errors, as well as giving the surgeon the ability to track soft tissue deformation in situ.
Current State: Currently construction of the first fully functional prototype is nearing completion. We hope to begin driving the armature to test for functionality within the next week (as of 9/15/09) and then begin accuracy testing. A photo of an earlier revision of the prototype is shown to the right.
Future Work: In the future we hope to begin working on selecting more effective materials for the pins and sliding surfaces of the linkage, as well as optimizing the linkage itself for torque and dexterity.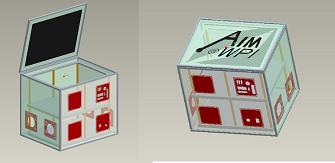 MRI Compatible Powered Electronics Case:
Purpose: The purpose of this project is to create a platform for the housing and powering of MRI compatible devices and controllers. The unit has so far been designed to house electronic, pneumatic, and hydraulic devices, while supplying varying levels of AC and DC power.
Current State: Currently the outer housing of the unit is nearing completion. The unit is designed to have a modular equipment rack inside, that can be removed to allow easier access as well as a hinged top. Models of this unit can be seen to the right.
Future Work: The next step in the progression of this project is developing an integrated power supply to efficiently deliver varying levels of power without causing interference with the scanner. Many commercially available switching power supplies cause excessive noise when used in the scanner room, and it is my goal to provide a programmable power supply capable of operating highly efficiently.
Programmable Piezo-electric Motor Driver:
Purpose: To create an MR compatible modular device capable of being controlled by a variety of control styles, while having the ability to drive a variety of piezo electric motors with highly specific arbitrary waveforms.
Current State: Currently a fully functional prototype has been assembled and is being tested. Several component footprint errors have been found in this version of the board, though simple fixes have maintained the boards functionality. The circuit has been tested in an MR scanner and has been shown to contribute minimally to signal to noise ration ( <2% in all tested imaging modalities, not statistically detectable in most)
Future Work: In the future we hope to produce another revision of the board addressing the PCB errors as well as some design issues. Additionally, work is being done on designing a daughter card that will replace the linear regulators the board with a higher efficiency voltage converter.
Publications
Book Chapters
---
Theses
---
Cole GA, PhD Dissertation, Robotics Engineering Program, WPI, Modular MRI Guided Device Development System: Development, Validation and Applications, Nov. 2012. WPI ETD Link

Refereed Journal Publications
---
Su H, Shang W, Cole GA, Li G, Harrington K, Camilo A, Tokuda J, Tempany CM, Hata N, Fischer GS, Piezoelectrically Actuated Robotic System for MRI-Guided Prostate Percutaneous Therapy, IEEE/ASME Transactions on Mechatronics, Vol 20, No 4, Aug 2015. IEEE, PDF

Refereed Conference Proceedings
---
Su H, Cardona D, Shang W, Cole GA, Rucker C, Webster III R, Fischer GS, A MRI-Guided Concentric Tube Continuum Robot with Piezoelectric Actuation: A Feasibility Study, IEEE ICRA 2012 International Conference on Robotics and Automation, Saint Paul, Minnesota, USA, May 2012 (Best medical robotics paper finalist). IEEE, PDF

Su H, Shang W, Harrington K, Camilo A, Cole GA, Tokuda J, Hata N, Tempany CM, Fischer GS, A Networked Modular Hardware and Software System for MRI-guided Robotic Prostate Interventions, SPIE Medical Imaging, San Diego, USA, Feb. 2012. SPIE, PDF

Su H, Cole GA, Hata N, Tempany CM, Fischer GS, Real-time MRI-Guided Transperineal Needle Placement Prostate Interventions with Piezoelectrically Actuated Robotic Assistance, Radiological Society of North America 97th Scientific Assembly and Annual Meeting, Chicago, USA, Nov. 2011. RSNA

Fischer GS, Cole GA, Su H, Approaches to Creating and Controlling Motion in MRI, In Proceedings of the 33rd Annual International Conference of the IEEE Engineering in Medicine and Biology Society (EMBC), Boston, USA, Aug. 2011. (Invited Paper) IEEE, PubMed, PDF

Su H, Iordachita I, Yan X, Cole GA, Fischer GS, Reconfigurable MRI-Guided Robotic Surgical Manipulator: Prostate Brachytherapy and Neurosurgery Applications, In Proceedings of the 33rd Annual International Conference of the IEEE Engineering in Medicine and Biology Society (EMBC), Boston, USA, Aug. 2011. PubMed, IEEE

Su H, Zervas M, Cole GA, Furlong C, Fischer GS, Real-time MRI-Guided Needle Placement Robot with Integrated Fiber Optic Force Sensing, IEEE ICRA 2011 International Conference on Robotics and Automation, Shanghai, China, pp 1583-1588, May 2011. PDF, ICRA, BibTex, EndNote

Su H, Camilo A, Cole GA, Tempany CM, Hata N, Fischer GS, High-Field MRI-Compatible Needle Placement Robot for Prostate Interventions, Proceedings of MMVR18 (Medicine Meets Virtual Reality), Newport Beach, California, USA, February, 2011, PDF

Cole G, Harrington K, Su H, Camilo A, Pilitsis J, Fischer GS, Closed-Loop Actuated Surgical System Utilizing Real-Time In-Situ MRI Guidance, 12th International Symposium on Experimental Robotics - ISER 2010, New Delhi, India, December 2010. ISER BibTex EndNote

Su H, Shang W, Cole GA, Harrington K, Fischer GS, Haptic System Design for MRI-Guided Needle Based Prostate Brachytherapy, Haptics Symposium - Haptics 2010, Waltham, Massachusetts, March 2010. PDF

Su H, Shang W, Cole GA, Harrington K, Fischer GS, Design of a Haptic Device for MRI-Guided Prostate Needle Brachytherapy, IEEE Haptics Symposium, Boston, USA, March 2010. PDF, BibTex, EndNote

Wang Y, Cole GA, Su H, Pilitis JG, Fischer GS, MRI Compatibility Evaluation of a Piezoelectric Actuator System for a Neural Interventional Robot, 31st Annual International Conference of the IEEE Engineering in Medicine and Biology Society - EMBC 2009, Minneapolis, Minnesota, September 2009. PDF, EMBS, PubMed, BibTex, EndNote

Cole G, Pilitsis J, Fischer GS, Design of a Robotic System for MRI-Guided Deep Brain Stimulation Electrode Placement, International Conference on Robotics and Automation - ICRA 2009, Kobe, Japan, pp 4450-4456, May 2009. PDF, IEEE

Cole GA, Van De Ven J, Design of a Variable Radius Piston Profile Generating Algorithm, ASME International Mechanical Engineering Congress & Exposition 2009

Van De Ven J, Cole GA, Designs Towards a Liquid Piston Stirling Engine, International Energy Conversion Engineering Conference 2008

Conference Abstracts, Workshops and Non Peer-Reviewed Papers
---
Pilitsis JG, Fischer GS, Cole GA, Stereotactic Neurosurgery with Real-time MRI-Guided Robot Assistance, American Society for Stereotactic and Functional Neurosurgery - ASSFN, June 2012.

Su H, Harrington K, Cole GA, Wang Y, Fischer GS, Modular Needle Steering Driver for MRI-guided Transperineal Prostate Intervention, IEEE International Conference on Robotics and Automation, Workshop on Snakes, Worms and Catheters: Continuum and Serpentine Robots for Minimally Invasive Surgery, Anchorage, AK, May 2010. BU, PDF

Cole GA, Fischer GS, MRI Compatible Surgical Systems: Analysis of Actuator Compatibility Methodologies and System Effectiveness, Robotics Science and Systems, Workshop on Enabling Technologies for Image-Guided Interventional Procedures, June 2010. PDF

Su H, Harrington K, Cole GA, Fischer GS, Active Needle Steering for Percutaneous Prostate Intervention in High-field MRI, 2010 Robotics: Science and Systems Conference, Workshop on Enabling Technologies for Image-Guided Robotic Interventional Procedures, Zaragoza, Spain, 2010. PDF

Faculty
Doctoral Students
Masters Students
Other Affiliates