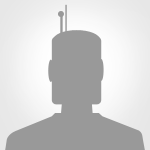 Eduardo Calle Ortiz
Master's Student
Computer Science
Worcester Polytechnic Institute
Contact Information
Lab

85 Prescott Street
Room 230 (Beside RBE office)
Phone: 508-831-5191

Mailing Address

85 Prescott Street
2nd Floor, Robotics Engineering
Worcester, MA 01605

E-mail
Education
Electronic Engineer, Universidad Politecnica Salesiana, Cuenca, Ecuador, 2003
Master in Information Technology in Fabrication and Robotics, Madrid, Spain, 2005
Research Interests
Human-Robot Interaction (HRI)
Affective computing
Health Behavior Change
Socially assistive robots for Rehabilitation for People with Cognitive Impairments
Robot Assisted Education
About Me
I was a Lecture in the School of Engineering at Universidad Politecnica Salesiana of Cuenca, Ecuador. Previously, I was a student in the Master's Program in Robotics and Manufacturing Technology at Universidad Politecnica de Madrid, Spain. My interest in the areas of AI and robotics led me to join the Industrial Automation Institute of the Higher Scientific Research Council in Spain -now CAR-, where I completed my master thesis, focusing on the development of force virtual sensors in walking robots. I worked with Professor Pablo Gonzalez de Santos. I was a short-term scholar at University of California, Berkeley working on Human-Computer Interaction (HCI), stress management, and emotions with Pablo Paredes and Professor Greg Niemeyer. I am currently studying a Master of Science in Computer Sciences at Worcester Polytechnic Institute. I am working with socially assistive robots for improving social skill in children with ASD.
I also have been working to improve the higher education system in Ecuador by promoting the development of scientific research and graduate programs at the university. I supported local development by working with Ministry of Foreign Trade, Industrialization, Fisheries and Competitiveness (MICIP) as part of the Global Small Business and Sectorial Development Programs.
At Universidad Politecnica Salesiana, I lead the creation of the Industrial Robotics Lab and Rapid Prototyping Lab with the objective of introducing new technologies and innovations in small bussiness.
I enjoy facilitating collaboration between students, professors and researchers, thus I was the General Chair of Andean Region International Conference (ANDESCON), 2012 VI - IEEE. I also participated as member of Technical Program Chairs of IEEE Asia-Pacific Conference on Computer Aided System Engineering (APCASE) conference (2015).